We sent a survey with 14 questions to 150 sponsors and evaluated the results. Multiple answers were possible for all questions. Of course we don't want to withhold them from you. They should help you to understand more precisely what the sponsors want from you in a sports sponsoring and how you should act best. We also show you how become-a-pro helps you to reach exactly these goals and that much easier, faster and more professional than the conventional way.
Of course we wish you a lot of success!
Question 1: What is important for you in sports sponsoring?

As an athlete it is of course important to know what the sponsors in sports sponsoring emphasize. Not only the won competitions count but much more. As you can see in the graphic, "authenticity" is clearly in the focus of the sponsors, because all sponsors have chosen this option. Professionalism and followers in the social media follow with 60% each. But 20% only achieved success in competitions and experience with previous sponsorships.
What does this mean for you?

Don't worry if you have not completed many sponsorships so far or have reached 1st place in competitions. Your appearance and professionalism are more important. That means you should behave the same way you deal with friends and family. Be yourself, no matter how crazy you are, for example, but stay professional. And sure, Instagram, Facebook, Snapchat and Co. offer you the perfect opportunity to present yourself in your own way. Of course, sponsors also benefit from this, because the more followers you reach, the better you can represent possible products and services.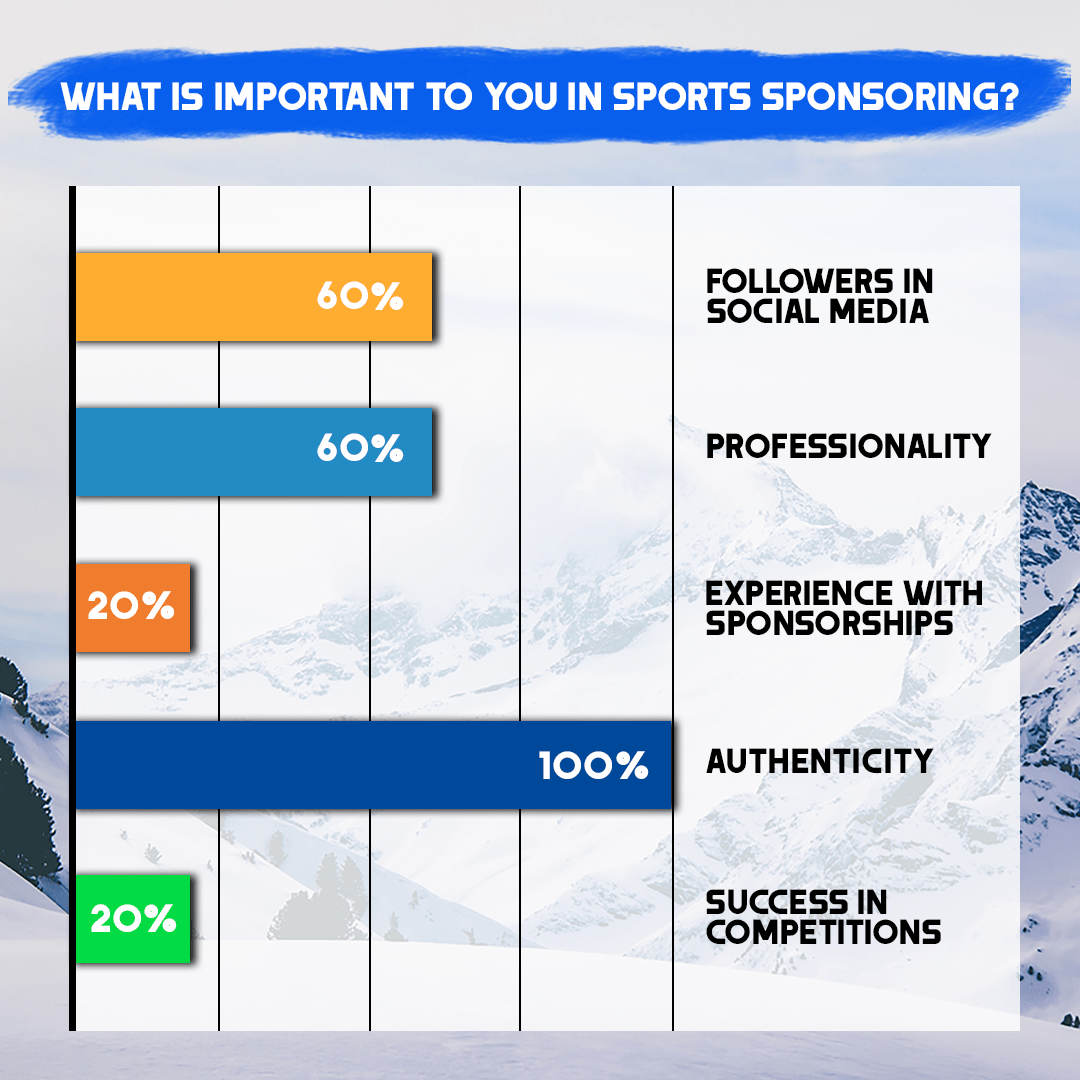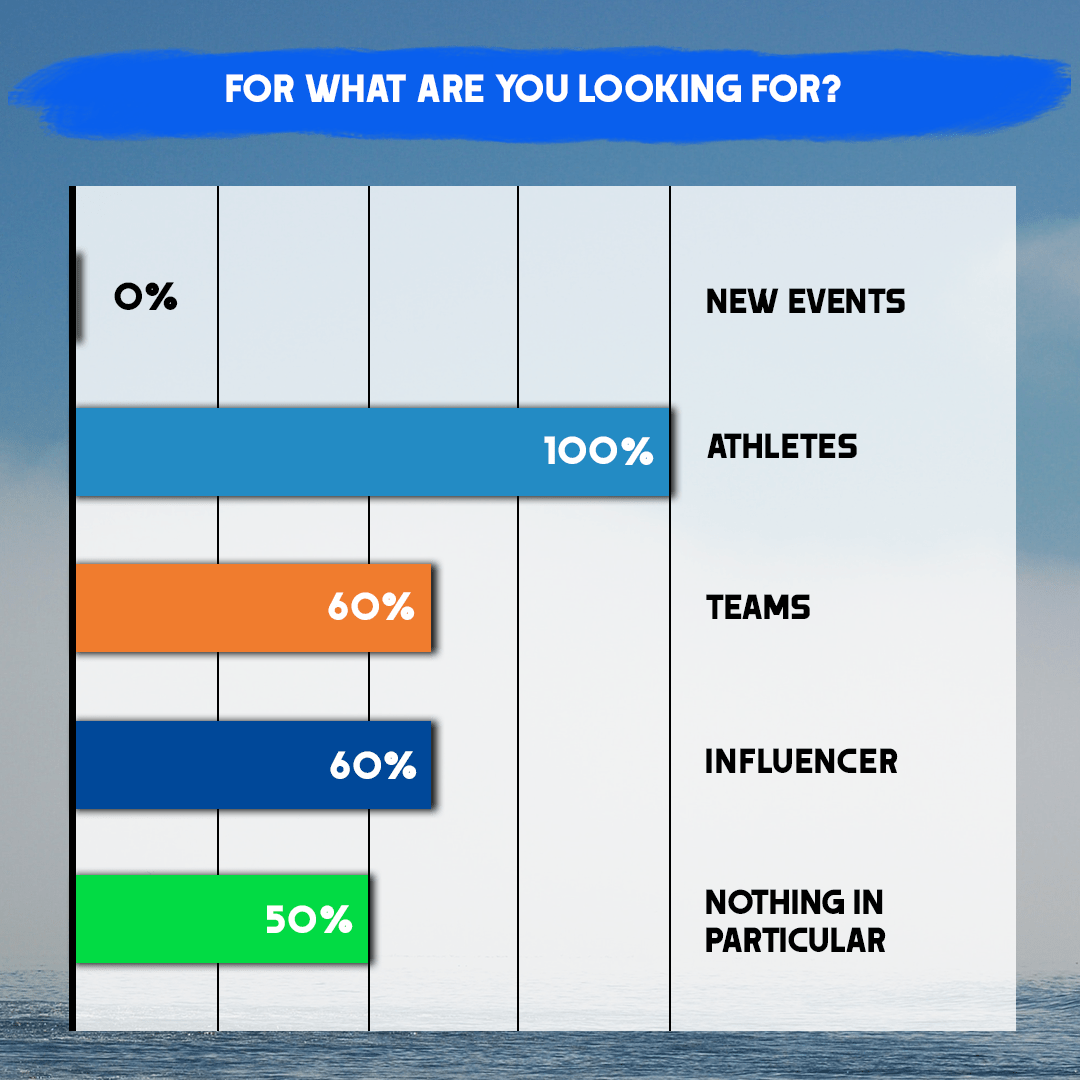 Question 2: What are you looking for?
Athletes, clearly. But if you are part of a team, you can also apply together. More athletes will give you more reach and as a team you will get attention faster. This is of course also well received by the sponsors. Meanwhile, sponsors are also looking for sport influencers directly, which can be a good opportunity for you to earn money or receive support in addition to other sponsorships.
Question 3: In which kind of athletes are you interested in?

What kind of athlete are the sponsors looking for? Sure, successful athletes are ahead with 60%. They already have the reach in social media, probably successfully completed competitions and are well known in the scene. But also authentic athletes with character will follow shortly after, as it already turned out in question 1, the sponsors want athletes with personality, who stand out from the crowd. So the sponsors can be sure that you as an athlete will be remembered by potential customers. The Social Media Influencers are also in the lead here with 60%. As an athlete, you should not forget that there is hardly a successful company in this industry that does not have a social media account and that is how you should handle it.
The newcomers with high potential have only reached 40%, but you shouldn't be discouraged by that, nevertheless the brands are looking for new faces and talents that nobody knows yet and you can be one of them.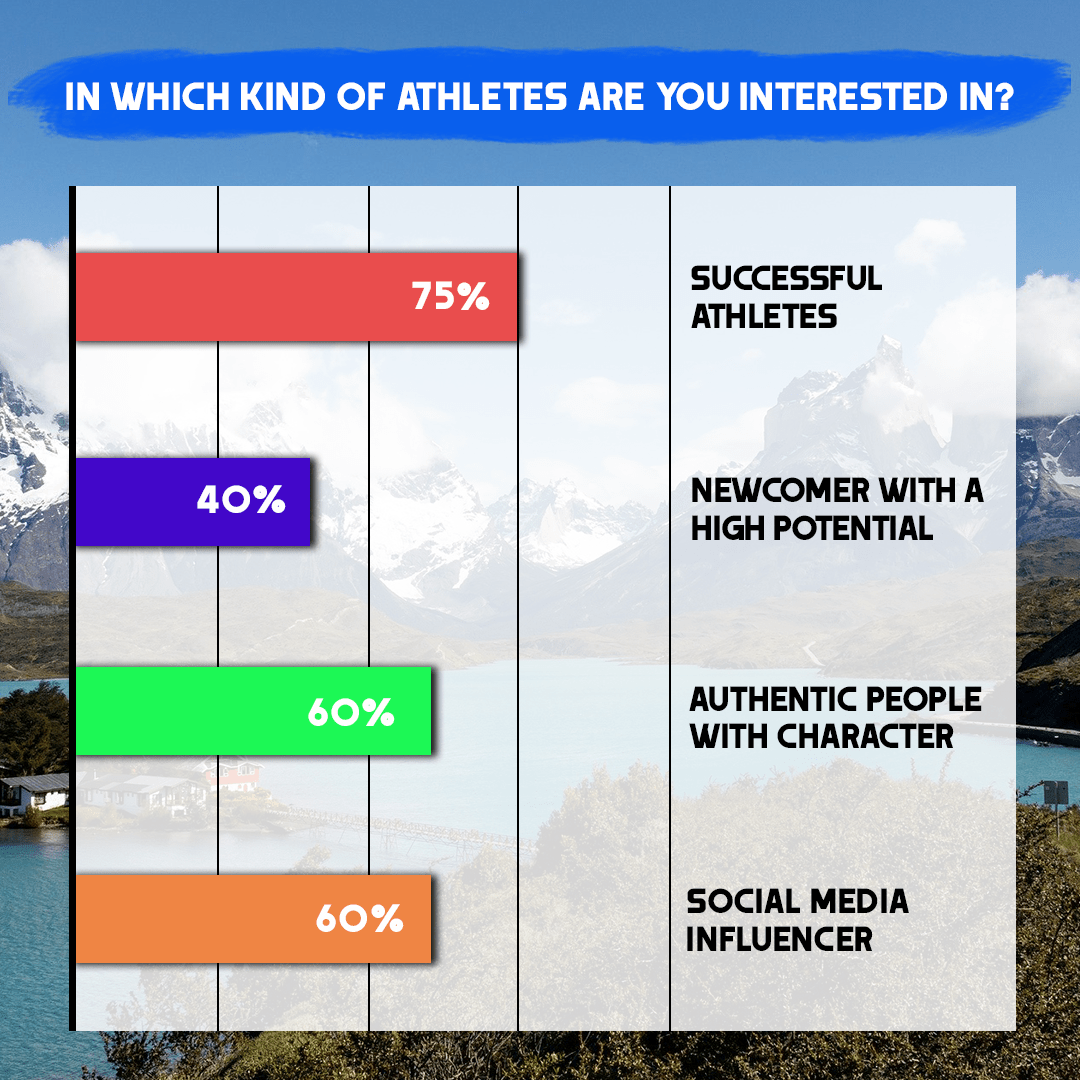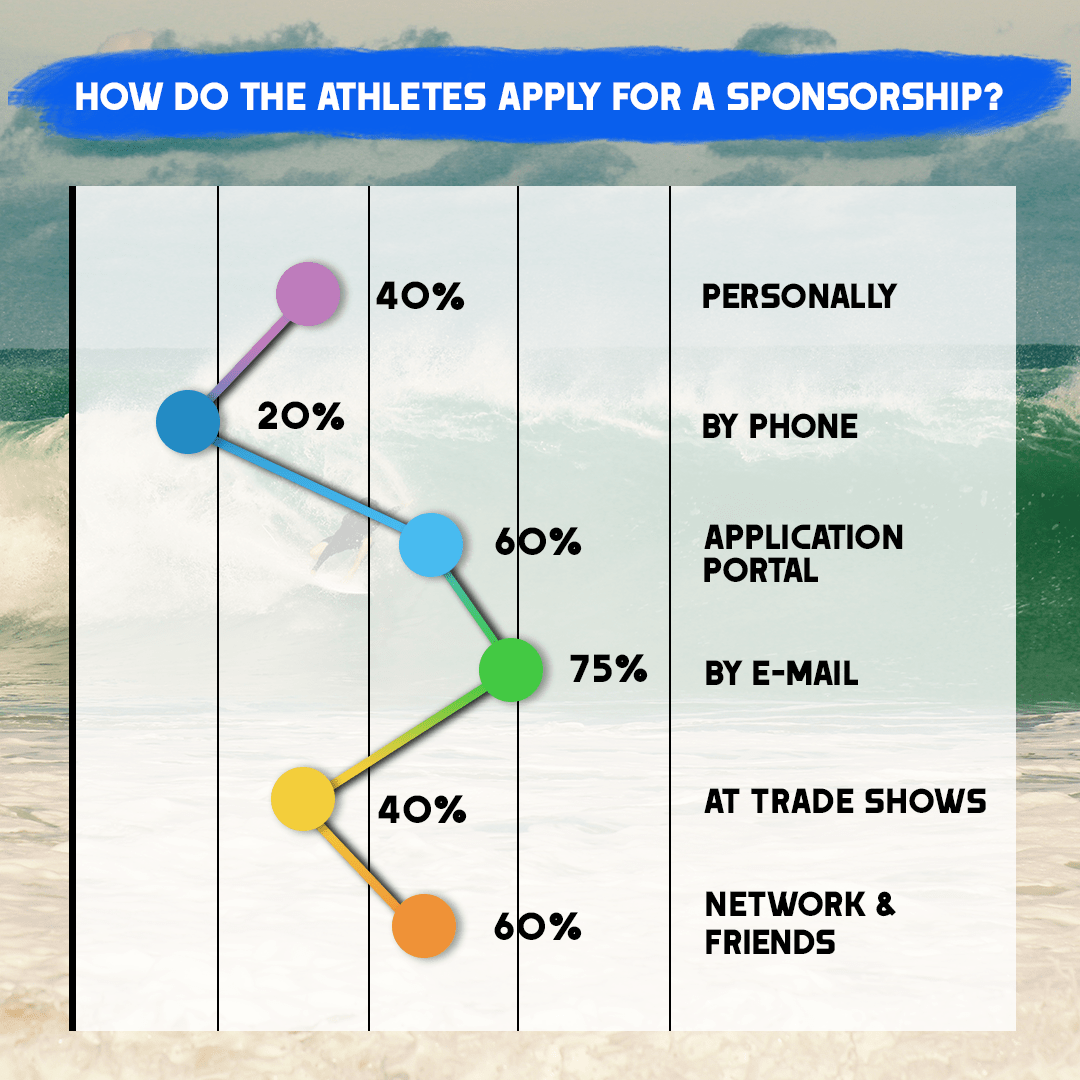 Question 4: On which way do the athletes apply to you?

The sponsors are reached by applicants through many different ways. . The sponsors stated that they are contacted most often by e-mail, but also through application portals or through other athletes, as well as networks. But don't forget that you can also introduce yourself to the sponsors at events or trade fairs, because personal contact often leaves a lasting impression and gives you a clear advantage over your competitors.
As you can see, the application portals are gaining in importance for sponsors. Of course, become-a-pro is one of the leading companies in this field, because we make it easier for sponsors to check numerous applications. Using the filter options, sponsors can search for the athlete that matches their brand. And with the help of the information, pictures, videos and linked social media channels they can find out what you are up to and, of course, what you are good at.
Question 5: What skills should the athletes have?
The result of this question is clear. All factors are important in sports sponsoring: identification with the brand, social media followers, knowledge and skills relating to products and services, professionalism and charisma. The sponsors attach importance to the athlete being able to identify with the brand. As an action athlete, you are better suited to sports labels and equipment suppliers than luxury fashion labels. If you do not fit the brand, you are addressing the wrong target group and the sponsor loses his credibility as well as the trust of his customers. Furthermore, social media is often the language, a point that has become much more important and an easy way to reach your community and target group. Therefore it is of course important for the sponsors if you have already built up a community that is interested in you and your sponsors. Knowledge and skills around the products and services of the sponsors can never hurt. For the sponsors it is practical if they don't have to explain everything to you and you create added value for the sponsor on your own. So the sponsor benefits if you can prepare or repair your equipment for the season yourself. A certain know-how of the sponsor's product range should also be given.
It is also an advantage to have skills in video editing, so you can cut important parts or edit pictures directly for the sponsor. Last but not least, professionalism and charisma are qualities that the sponsors want. So they can trust you and know that you present the sponsor accurately and cooperate with him. But they also know that you have the charisma to promote the brand and put it in the foreground. You see all points are important for you as athletes. Think about which factor should be more pronounced for you and how you can improve this even further. Most of the time it is relatively easy and in the long run you as an athlete, but also your sponsor will benefit if you acquire further skills.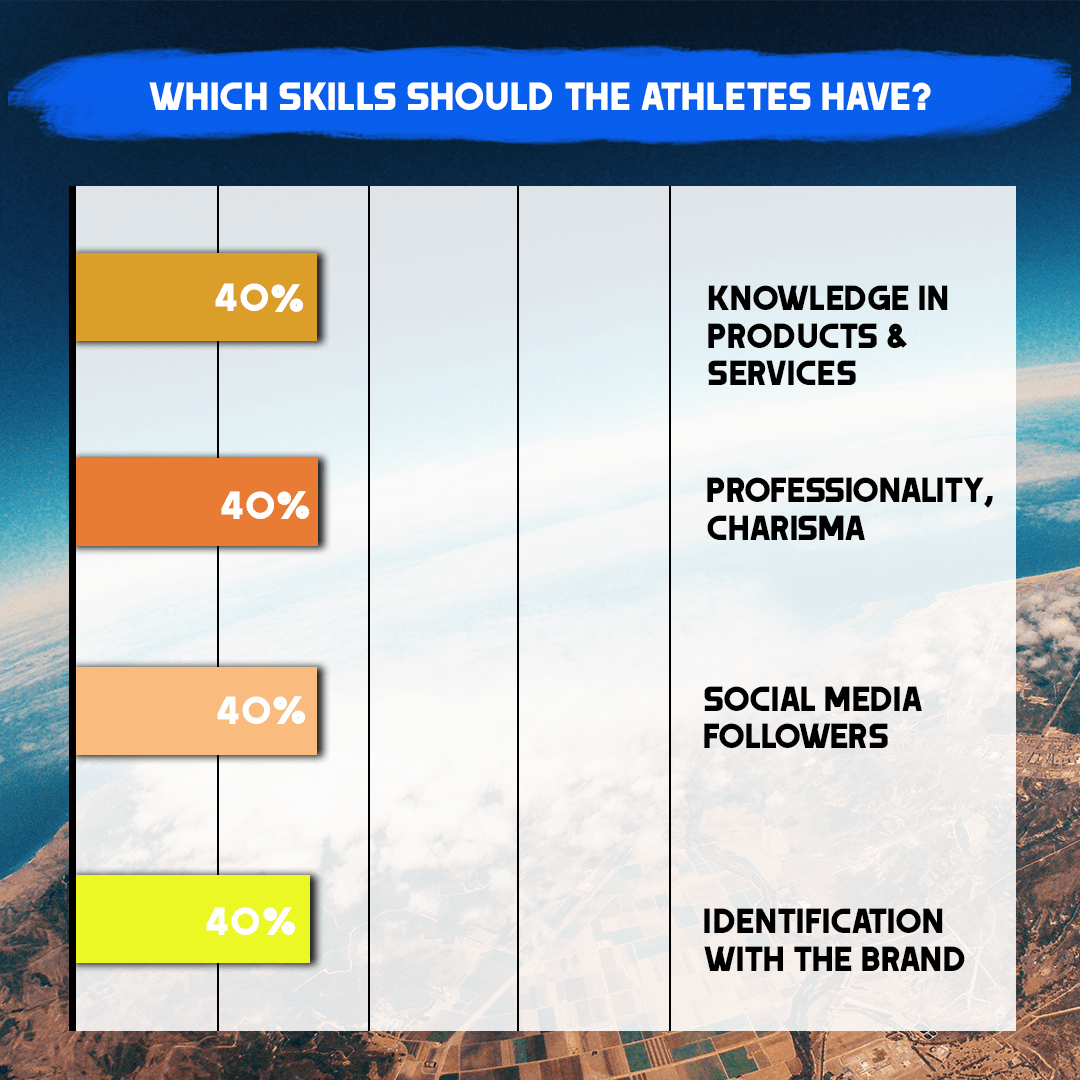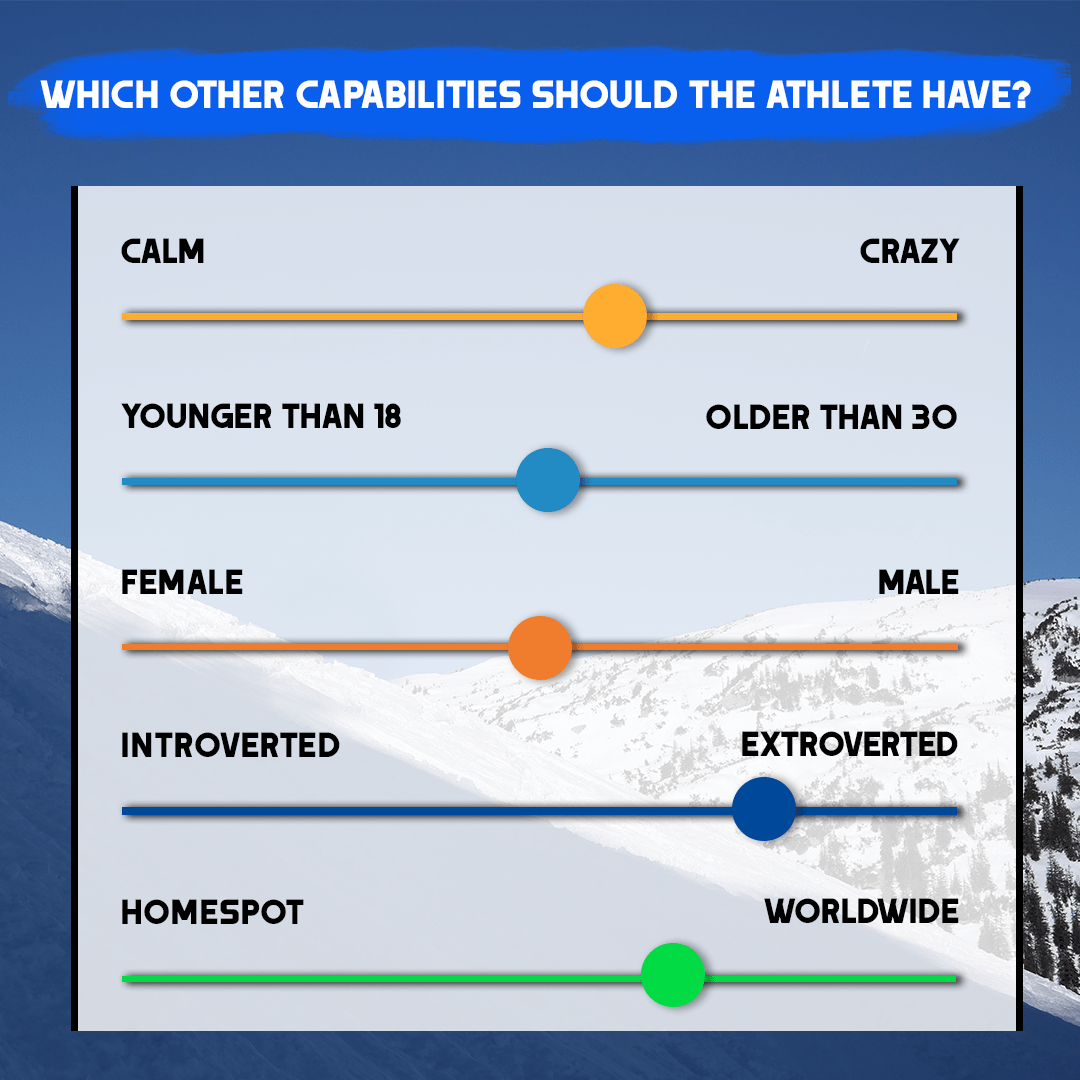 Question 6: What other capabilities should the athletes have?
Here the sponsors have voted per aspect.
It is noticeable again that the sponsors are looking for personalities that stand out and are stored in people's minds. So on the one hand they have decided on "Crazy", i.e. rather crazier athletes, and on the other hand on "Extroverted".
Regarding the question whether the sponsors are looking for more female or male athletes, they all agreed that they don't care about the gender.
The average age was about 24 years, but some sponsors indicated that they would like to include younger athletes in their portfolio, while others were looking for older athletes over 20 years of age. As you can see, this point varies from sponsor to sponsor. Some are looking for newcomers, i.e. new faces, but others are more experienced athletes who have already built up a community.
Homespot or Worldwide? This is also different from sponsor to sponsor, if the sponsor is only regional or perhaps in Germany, then they are looking for national athletes. With larger companies that are represented worldwide, there are often contact persons in each country, so international sponsorships are no problem. Also thanks to globalisation and digitalisation, on average more sponsors have decided to go "Worldwide". This area also includes national or cross-national sponsoring.
Question 7: Which social media skills are important for you?
Instagram, Facebook, Twitter, Snapchat, Tiktok, YouTube. We have already mentioned some social media channels, but some are still missing. So you can see how important social media has become, also for the sponsors and athletes. All sponsors expect their athletes to have an account on the most important social media channels. This includes Instagram and Youtube. On Instagram the products and services of the sponsors can be presented in an easy way. On YouTube, however, athletes can present their skills. This is of course different depending on the industry. The action sport, or rather the popular sport lives from videos and pictures, which can be viewed as a fan or interested party. As an athlete you have to use this to highlight yourself and your sponsor. But of course the other channels should not be ignored, especially new ones like TikTok, which is now used by more than 5.5 million users. (Status 04.2020)
Balanced, the sponsors want daily/weekly updates of their athletes via social media, as well as a large community and a high number of followers. Once you are successful it is easier to build up followers. Until then you should regularly upload pictures. Until then you should regularly publish pictures of yourself, your sport and life to increase the number of followers. Think about what could be interesting for your followers to give them added value here too. You should also keep your followers up to date about contests and link them, so that new people can find you. Or even link other athletes to generate a larger range. But you should still be clear about what you publish and what you should not. For data protection reasons and to protect your privacy.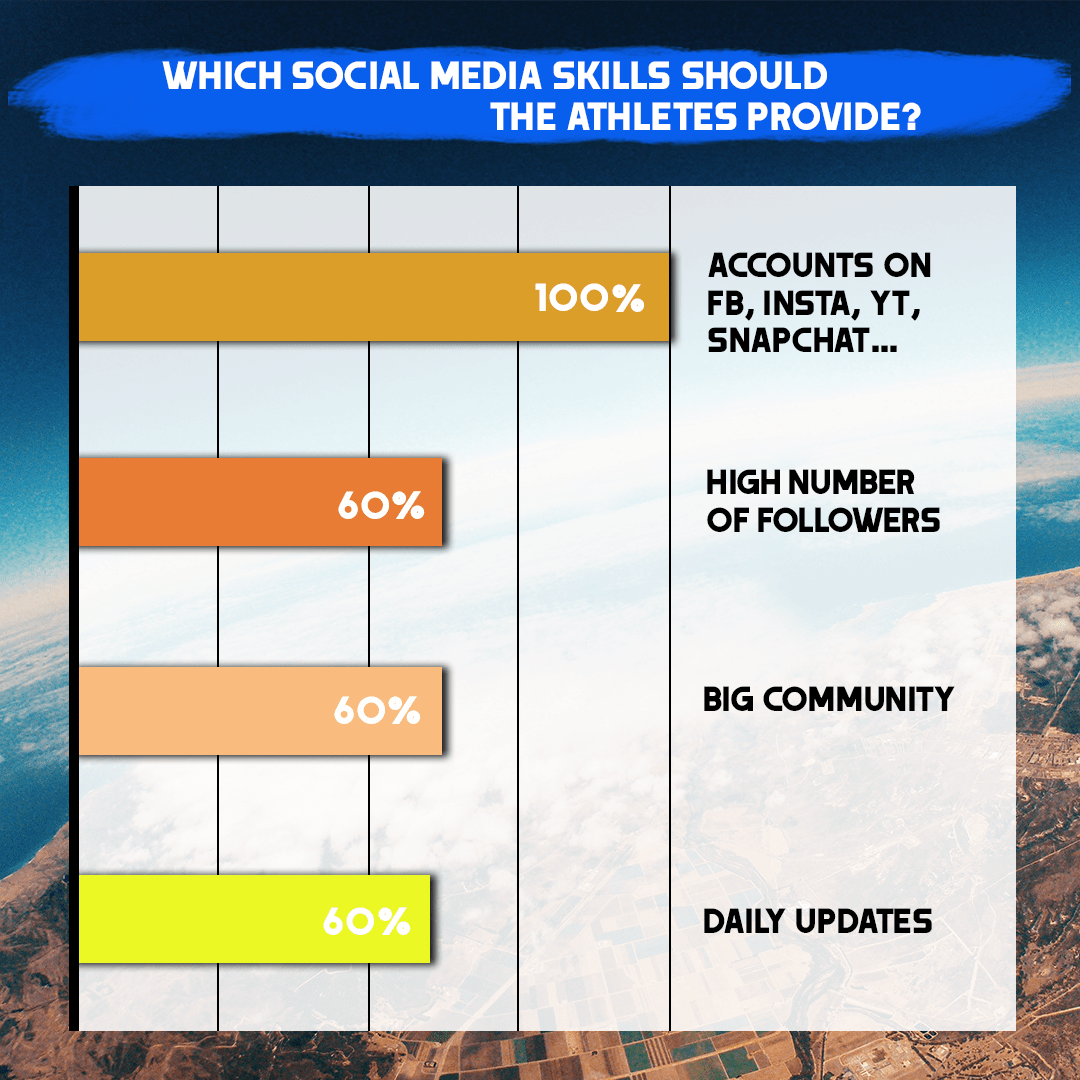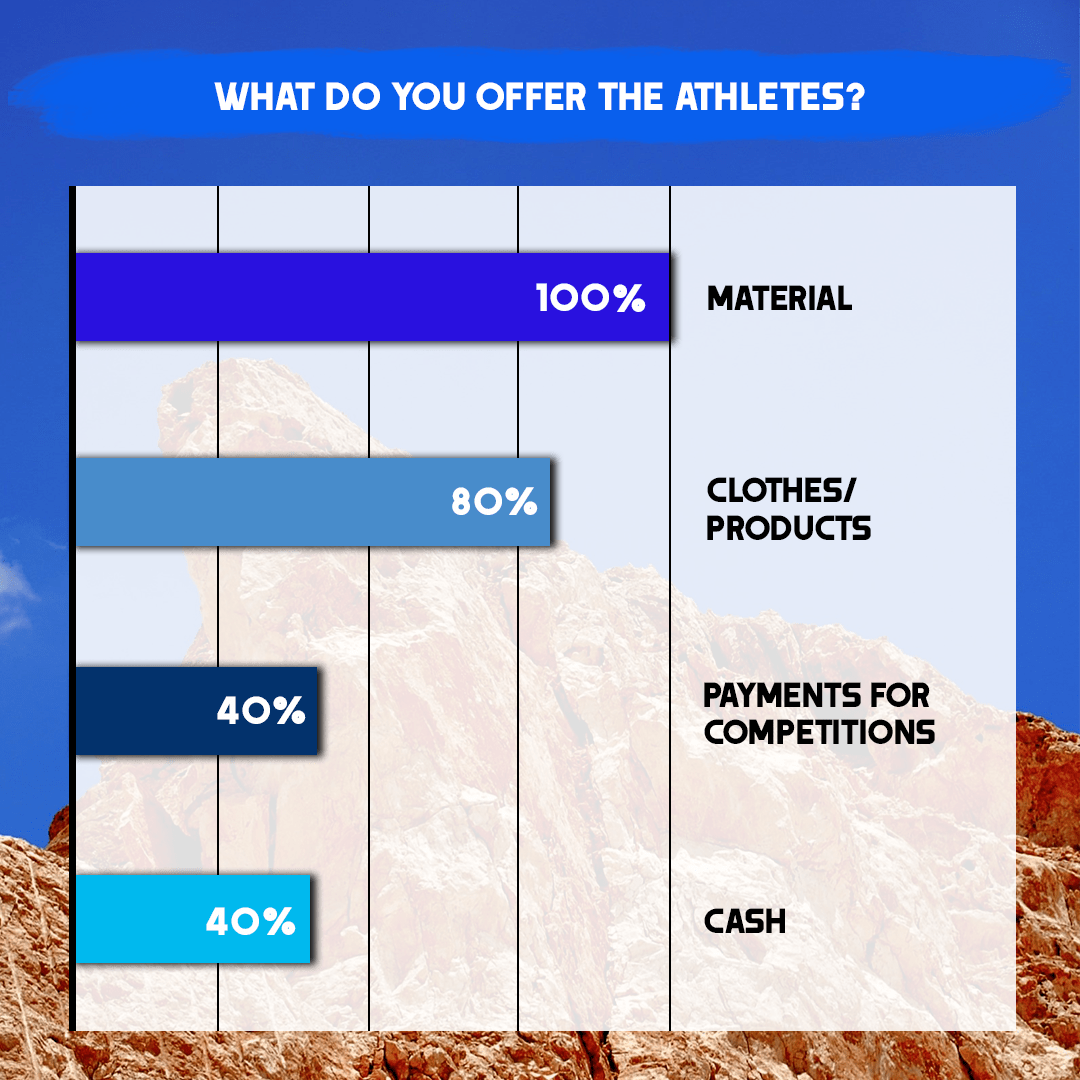 Question 8: What do you provide to the athletes?
An important point for all athletes: What performance can you expect from your sponsor? That depends of course always on the sponsor and other factors. Is the sponsor internationally active, how much turnover does the sponsor make, which products and services does the sponsor offer, how many athletes does the sponsor have under contract, etc.? All of the sponsors interviewed unanimously stated that they support the athletes with equipment. For you, the often high acquisition costs for the equipment are eliminated and the sponsor automatically attracts attention by representing him at competitions and events. 80% of the sponsors also support their athletes with streetwear and lifestyle products, depending on what the sponsor has in his assortment. Especially as the first sponsorships you often enter with sponsorships in the form of equipment and products. With more experience, range and participation in competitions you can of course demand more from your sponsor, or receive more from your sponsor. 40% of the interviewed sponsors pay their athletes. This can be achieved through bonuses for won competitions or good performances, fixed payments for the presentation in social media or a monthly payment.
Our recommendation for our young talents: Improve! Sure, in the beginning you won't start directly with paid sponsorships. But the more you perform, the more valuable you are for the sponsors. Establish a relationship with the sponsor and communicate or negotiate with the sponsors by showing them what you do for the brand and how you move it forward.